Swivel foot | machine foot KFE 80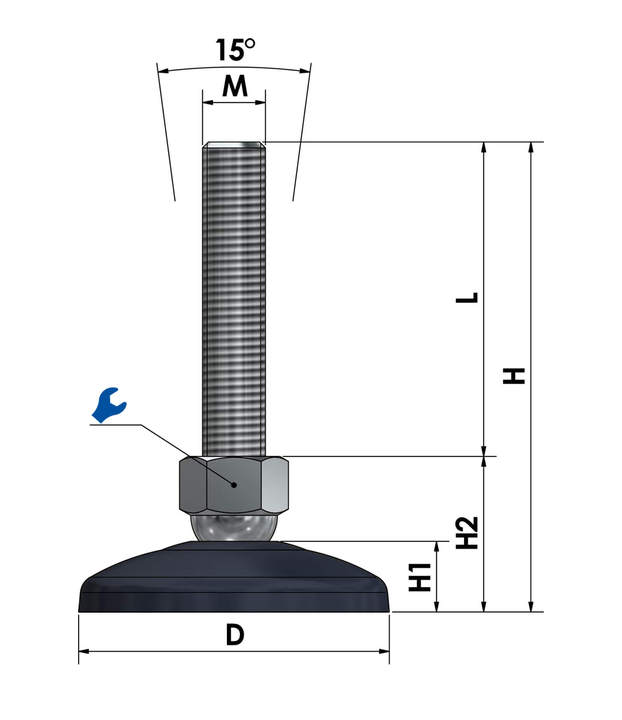 Foot plate: Plastic PA Polyamide, glass fiber reinforced, black
Threaded spindle: stainless steel 1.4301 - AISI 304
Glass-fiber-reinforced polyamides
have a significantly higher heat resistance than unreinforced grades.
The austenitic and acid resistant
stainless steel 1.4301 - AISI 304
(also called V2A or 18/10 Cr-Ni-steel) has a particularly low carbon content and is the most commonly used stainless steel. It is resistant to corrosion and has good mechanical properties.
The steel is resistant to oxidfation, water, water vapor, humidity, food acids as well as weak organic and inorganic acids and is therefore
easy to clean
.
This swivel foot or machine foot is also available in steel chrome plated.
The swivel feet with plastic plates are generally used in sanitary environments or in areas where hygiene plays an important role.
The maintenance-free swivel feet or machine feet are steplessly adjustable over the thread (depending on the spindle length) and tiltable to a certain degree, which simplifies precise assembly and alignment.
The adjustable angle of inclination of approx. 7.5° in each direction guarantees a stable and precise alignment of the machine.
Stepless height adjustment (depending on the length of the thread spindle) with maximum stability and low force expenditure
Compensation for ground irregularities without the need for expensive concrete foundations
Large hex key surfaces for easy height adjustment
Screwed connection between plate and spindle
Sizes in stock and quickly available (please ask for special sizes)
Swivel foot KFE80
:
KFE80M8x50
KFE80M8x80
KFE80M8x100
KFE80M8x120
KFE80M8x150
KFE80M8x180
KFE80M8x200
KFE80M8x250
KFE80M8x300
KFE80M10x50
KFE80M10x80
KFE80M10x100
KFE80M10x120
KFE80M10x150
KFE80M10x180
KFE80M10x200
KFE80M10x250
KFE80M10x300
KFE80M12x50
KFE80M12x80
KFE80M12x100
KFE80M12x120
KFE80M12x150
KFE80M12x180
KFE80M12x200
KFE80M12x250
KFE80M12x300
KFE80M14x50
KFE80M14x80
KFE80M14x100
KFE80M14x120
KFE80M14x150
KFE80M14x180
KFE80M14x200
KFE80M14x250
KFE80M14x300
KFE80M16x50
KFE80M16x80
KFE80M16x100
KFE80M16x120
KFE80M16x150
KFE80M16x180
KFE80M16x200
KFE80M16x250
KFE80M16x300
KFE80M20x50
KFE80M20x80
KFE80M20x100
KFE80M20x120
KFE80M20x150
KFE80M20x180
KFE80M20x200
KFE80M20x250
KFE80M20x300
KFE80M24x50
KFE80M24x80
KFE80M24x100
KFE80M24x120
KFE80M24x150
KFE80M24x180
KFE80M24x200
KFE80M24x250
KFE80M24x300
KFE80M30x50
KFE80M30x80
KFE80M30x100
KFE80M30x120
KFE80M30x150
KFE80M30x180
KFE80M30x200
KFE80M30x250
KFE80M30x300
Technical Details
Ø D

79

mm
H1

18

mm
H2

35

mm
H

85

mm

17

mm

1,200

kg
Notice: The max. static load value refers to the foot plate. If you have any questions about the load on the foot plates or spindles, please feel free to contact our technical support.
Please enter your e-mail address for the download of the CAD-file.
Applications
Food industry
Bottling machinery
Chemical industry
Pharmaceutical and cosmetics industry