Adjustable foot - machine mount SF 80 ESD - electroconductive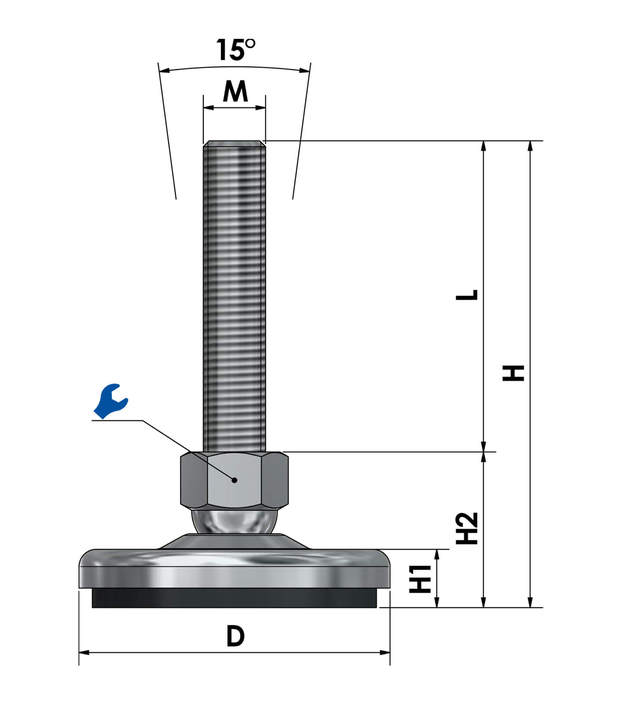 Foot plate: steel chrome-plated
Threaded spindle: steel zinc-plated
Damping plate: EPDM, 70° ±5 Shore A, black
In addition to the functional and decorative coating,
chromium-plated steel offers a high corrosion resistance as well as a high hardness and abrasion resistance. It is distinguished by a high resistance and
easy care and cleaning
.
The galvanizing of the threaded spindle also offers a high degree of
corrosion protection
.
The electroconductive damping plate EPDM (ethylene-propylene-diene rubber) glued with a special adhesive is suitable for high requirements. The continuity resistance is
3x 105 Ω
, the surface resistance is
1x 103 Ω
.
This adjustable foot or machine mount is also available in stainless steel.
This electrically conductive adjustable feet made of
chromium-plated steel
are used particularly in less demanding climates and have a brilliant appearance due to the high-quality chromium plating.
Our high-quality and precisely manufactured adjustable feet offer the advantage of
reducing vibrations
and
reducing the noise
caused by vibrations by means of the permanently bonded damping plate. In addition, the machines are protected, thus increasing their
longevity
.
The
maintenance-free
machine foot is steplessly adjustable over the thread (depending on the spindle length) and tiltable to a certain degree, which simplifies
precise assembly and alignment
.
The adjustable angle of inclination of approx. 7.5° in each direction guarantees a stable and precise alignment of the machine.
Vibration damping with maximum stability
Electrically conductive special rubber EPDM
Noise reductionprotection against slipping due to damping plate EPDM
Increase the longevity of machines, measuring instruments and products
Compensation for ground irregularities without the need for expensive concrete foundations
Large hex key surfaces for easy height adjustment
Screwed connection between plate and spindle
The delivery of the adjustable feet or machine mounts is completely assembled.
Sizes in stock and quickly available (please ask for special sizes)
Adjustable foot SF80ESD
:
SF80ESDM8x50
SF80ESDM8x80
SF80ESDM8x100
SF80ESDM8x120
SF80ESDM8x150
SF80ESDM8x180
SF80ESDM8x200
SF80ESDM8x250
SF80ESDM8x300
SF80ESDM10x50
SF80ESDM10x80
SF80ESDM10x100
SF80ESDM10x120
SF80ESDM10x150
SF80ESDM10x180
SF80ESDM10x200
SF80ESDM10x250
SF80ESDM10x300
SF80ESDM12x50
SF80ESDM12x80
SF80ESDM12x100
SF80ESDM12x120
SF80ESDM12x150
SF80ESDM12x180
SF80ESDM12x200
SF80ESDM12x250
SF80ESDM12x300
SF80ESDM14x50
SF80ESDM14x80
SF80ESDM14x100
SF80ESDM14x120
SF80ESDM14x150
SF80ESDM14x180
SF80ESDM14x200
SF80ESDM14x250
SF80ESDM14x300
SF80ESDM16x50
SF80ESDM16x80
SF80ESDM16x100
SF80ESDM16x120
SF80ESDM16x150
SF80ESDM16x180
SF80ESDM16x200
SF80ESDM16x250
SF80ESDM16x300
SF80ESDM20x50
SF80ESDM20x80
SF80ESDM20x100
SF80ESDM20x120
SF80ESDM20x150
SF80ESDM20x180
SF80ESDM20x200
SF80ESDM20x250
SF80ESDM20x300
SF80ESDM24x50
SF80ESDM24x80
SF80ESDM24x100
SF80ESDM24x120
SF80ESDM24x150
SF80ESDM24x180
SF80ESDM24x200
SF80ESDM24x250
SF80ESDM24x300
SF80ESDM30x50
SF80ESDM30x80
SF80ESDM30x100
SF80ESDM30x120
SF80ESDM30x150
SF80ESDM30x180
SF80ESDM30x200
SF80ESDM30x250
SF80ESDM30x300
SF80ESDM24x1.5x50
SF80ESDM24x1.5x80
SF80ESDM24x1.5x100
SF80ESDM24x1.5x120
SF80ESDM24x1.5x150
SF80ESDM24x1.5x180
SF80ESDM24x1.5x200
SF80ESDM24x1.5x250
SF80ESDM24x1.5x300
SF80ESDM30x1.5x50
SF80ESDM30x1.5x80
SF80ESDM30x1.5x100
SF80ESDM30x1.5x120
SF80ESDM30x1.5x150
SF80ESDM30x1.5x180
SF80ESDM30x1.5x200
SF80ESDM30x1.5x250
SF80ESDM30x1.5x300
Technical Details
Ø D

80

mm
H1

17

mm
H2

37

mm
H

87

mm

17

mm

850

kg
Notice: The max. static load value refers to the foot plate. If you have any questions about the load on the foot plates or spindles, please feel free to contact our technical support.
Please enter your e-mail address for the download of the CAD-file.
Applications
Special machinery
Automation devices
Conveying machinery
Packaging machinery
Paper machinery
Weighing machinery
Chemical installations